Now there are 3: Laraway collects enough signatures, joins Assembly race
| | |
| --- | --- |
| 2/21/2018 | By Patsy Nicosia |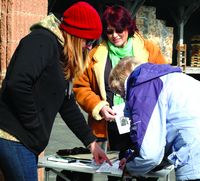 With the help of more than 100 volunteers, who collected signatures at feed stores, school dinners, and local diners, Middleburgh's Wesley Laraway has joined the race for Assembly District 102.
Mr. Laraway, a longtime history teacher at Middleburgh Central School, is running as an independent candidate in the April 24 special election.
He joins Republican candidate Chris Tague of Schoharie and Democrat Aidan O'Connor Jr. of Durham.
Mr. Laraway needed to collect 1,500 signatures by 5pm Sunday to get on the ballot; supporters collected more than 2,000.
Connie Standhart of Middleburgh and Karen Mahar of Cobleskill spent their Saturday gathering signatures at Kelley Farm & Garden in Cobleskill.
Both said they believe Mr. Laraway is well-qualified to replace Pete Lopez, who left in the fall to take a job with the EPA.
"Wes isn't a politician," Ms. Standhart said. "We need people like him in Albany.
"He's always been the kind of guy who's there for everyone," added Ms. Mahar. "He's important to the community. He's running to give us a choice."
Mr. Laraway lists term limits, campaign finance reform, rural technology, and focusing on vocational education and jobs as among the most important campaign issues.
In addition to being a 30-year teacher, Mr. Laraway and his wife, Darcy, run one of the largest privately-funded animal rescue facilities in the Northeast.