A red, white, and blue 4th celebration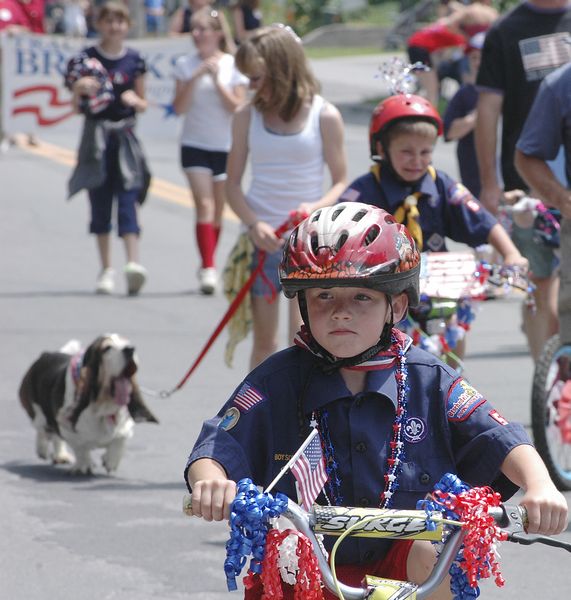 7/8/2008
By Patsy Nicosia

Schoharie County kicked off summer the old-fashioned way Friday:
With a traditional Independence Day celebration.
This year, Cobleskill Partnership Inc. and the Friends of the Fourth joined forces to sponsor the ever-popular event.
Festivities kicked off with a noontime parade and judges were Hope Coons, founding member of the Friends; Mark Eamer, director of the TriCounty Arts Council; and Bill Ansel-McCabe, Middleburgh's mayor.
Donna Lavigne was pressed into service as the parade emcee and with three dozen entries—from Scouts to ponies to antique cars and everything in between—it was quite a task.
Afterwards, the crowd adjourned to Centre Park, where Captain Squeeze and the Zydeco Moshers gave the Fourth a Cajun bite and there were plenty of refreshments to choose from.
Fireworks at the Schoharie County Fairgrounds, sponsored by SUNY Cobleskill, capped off the fun.
Parade winners were: The Angelz Cheer Dome, Cobleskill, and Cobleskill Junior Girl Scout Troop 2345, Stewart's ice cream certificates; the Henzler family and their miniature horses, $50 in Schoharie County Chamber of Commerce gift certificates; Jim and Marti DeBar and Ron and Priscilla Davis of the Schoharie Valley Antique Auto Club, $75 in Chamber gift certificates; and the Red Hat Society, $75 in Chamber gift certificates.
Those who didn't collect their prizes in the park can contact Jacqui Hauser at 296-8122.