CRH doctor targets patient pain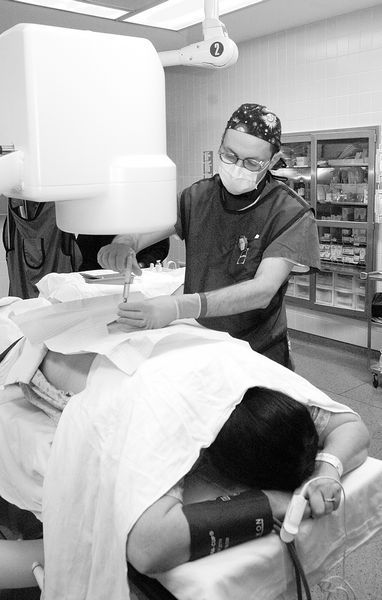 11/18/2008
By Jim Poole

Leon Margolin targets the most basic source of a patient's complaint:
Pain.
New to Bassett Healthcare and Cobleskill Regional Hospital, Dr. Margolin is a pain-management specialist who treats patients with chronic muscle, nerve or bone pain.
"Pain is the most frequent complaint that brings people to their doctor," Dr. Margolin said last week.
Pain-killers often don't work or give only temporary relief, he added, but the relatively new field of pain management can do so.
Board-certified in both interventional pain medicine and physical rehabilitation, Dr. Margolin's procedures and treatments manage short- and long-term pain, especially in the back, neck or joints.
Patients may suffer from pain caused by inflammation from arthritis or spinal disc problems. In such cases, Dr. Margolin injects a steroid medication into the affected area, "and it usually takes the pain away," he said.
For CRH––and for patients––this means that treatment for pain is in Cobleskill instead of Cooperstown.
"We're very happy to have Dr. Margolin on staff because now we can offer pain management locally," said hospital President and CEO Eric Stein.
"A lot of people with chronic pain just let it go rather than travel a pretty far distance. His practice is growing quickly, and that shows the need."
Bob Benninger, 74, of Central Bridge was such a patient. Employed at Highcliff Farm in Delanson, Mr. Benninger developed pain in his back after his foot slipped while he was climbing onto a tractor last spring.
He went to Cobleskill Regional's emergency room, received medicine and eventually felt better.
But in July, he re-injured his back while working on a lawnmower.
His physician, Roy Korn, referred Mr. Benninger to Dr. Margolin, who gave him three steroid injections over four weeks.
"It was a little better after the first shot, and then all better, like," Mr. Benninger said.
Mr. Benninger's wife, Ethel, followed the process and agreed with her husband.
"He was in bad shape," she said. "He could just about walk and had to hold onto something to get across a room.
"Now, whatever it was, it's gone. It was wonderful, and the staff at the hospital was great."
For those procedures––some last as little as 10 minutes in the operating room––Dr. Margolin extensively screens patients beforehand.
Then he uses a live X-ray to guide the needle with pinpoint precision.
"I think it's the best and safest way," Mr. Margolin said. "And by doing it in the operating room, it's the most sterile environment."
There are special procedures for joints, he said, and there's been some success in controlling pain for cancer patients.
About 70 percent of Dr. Margolin's patients get relief from pain.
"Sometimes it's right away, sometimes it's for a few months, and some need more injections," Dr. Margolin said. "Occasionally, the relief is forever. Every patient is different."
Mr. Benninger had been concerned that he might need surgery, and Dr. Margolin confirmed that this is a common fear among pain patients.
But surgery is often not necessary and he's "had a lot who had surgery but still need the treatments," Dr. Margolin said.
"And this is much safer than surgery," he added.
Dr. Margolin also prescribes non-narcotic pain medications and works closely with primary care doctors and specialists.
At Cobleskill, Dr. Margolin sees patients in an outpatient clinic on Tuesdays and performs procedures in the OR on Wednesdays.
Patients can call the hospital for an appointment or be referred to Dr. Margolin by their private doctors.
* * *
Dr. Margolin, 35, received his medical degree and Ph.D. from Hebrew University in Israel, completed an internship at Staten Island University and a residency in physical medicine and rehabilitation at Albert Einstein College of Medicine.
He completed a fellowship in pain medicine at the University of Pittsburgh last year and has also received the Pfizer Scholars in Pain Management Award and a Physician's Recognition award from the American Medical Association.
He and his wife, Lina, live in Albany with their three children.