Barbers float sweet corn down the Creek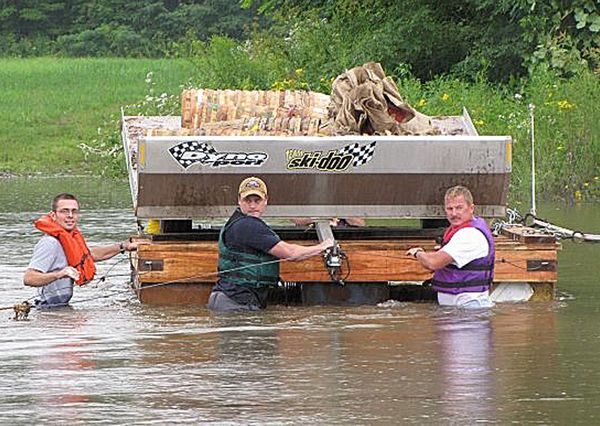 8/5/2009
By Jim Poole

If customers are clamoring for sweet corn, Barber's Farm will get it to them.
Even if workers harvest the corn by raft.
That's exactly what they did over the weekend, after heavy rain Friday flooded the road to a cornfield ready for harvest.
The spot is in the middle of an ox-bow in Schoharie Creek. When the creek floods, it closes the narrow drive to the field.
"We call it the island," said Jim Barber. "We've been cut off from it before, and it's been frustrating.
"This time we said, 'We'll give it a try.' "
So on Friday, as rain pounded the Fultonham farm and the rest of the county, Barbers' workers built a raft. They floated it over the weekend, towing a four-wheeler and a trailer––on separate trips––to the island.
Now accessing the corn, they loaded up the trailer, then the raft, and brought the corn to dry land.
"It was wet, but the corn was dry," Mr. Barber laughed.
They picked enough Sunday to start up Monday. It was likely to be dry enough Tuesday to get a tractor and trailer across the low water, Mr. Barber said.
Overall, he added, the corn is doing well despite the cool, wet summer.
"We've had a steady supply, which is an accomplishment, considering the weather," Mr. Barber said. "But we haven't had an over-abundance."
And with no idea how the rest of the summer will run, the Barbers will keep the raft handy.
"We'll make any effort to get folks their sweet corn," Mr. Barber said.