Optimism for sale to Intelligent FIsh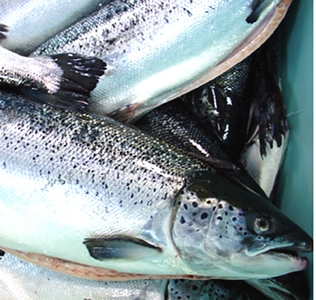 10/5/2010
By Jim Poole

Local officials are optimistic about the sale of the vacant Guilford Mills plant as details emerge about the deal and the potential buyer.
The Schoharie County Board of Supervisors learned last month that Intelligent Fish, a fish-farming company, signed a letter of intent to buy the county-owned factory.
Since then, questions have been raised about the nature of the business, the money involved and the company itself.
Several Times-Journal readers wondered why a company set to buy a building in the $3 million range would have no website.
The answer: Intelligent Fish is a start-up company with the intent to raise and process salmon.
"It's not unusual that you wouldn't find them on the web," said Jack Kelley of Coldwell Banker Prime Realty, the firm marketing the plant for the county.
"I wondered that, too, but I checked with the Secretary of State and found they had filed the appropriate LLC [Limited Liability Corporation] papers."
Kevin Hopkins, a professor specializing in aquaculture at the University of Hawaii at Hilo, is one of the Intelligent Fish principals. Others include a professor at Columbia University and another at Cornell University.
Contacted Monday, Mr. Hopkins said he's been involved with fish farming for 40 years. He has a small fish-farming business that Intelligent Fish is buying as well.
Intelligent Fish wouldn't be raising genetically-altered salmon, another concern of readers, Mr. Hopkins said.
"We have no intention of that," Mr. Hopkins said. "In fact, we're looking into what we can do to get our salmon certified as organic."
However, Mr. Hopkins added, there's some question whether fish can be certified as organic.
"We'll have to see what the USDA says," he said.
County Economic Developer Jody Zakrevsky said that at first he was skeptical of Intelligent Fish's proposal, but after meeting Mr. Hopkins and others, "their business plan and cash-flow records convinced me they know what they're doing."
Intelligent Fish has already made a straight cash offer on the factory, and the county has responded with minor revisions, according to county Attorney Mike West.
No figures have been released, but the county was asking for $3.5 million for both buildings at the Guilford site. County officials want at least $2 million, which would cover back taxes unpaid by a previous owner.
"It's not a depressed price, but it would be good to get it back on the tax rolls and get some employment here," Mr. West said.
Because Intelligent Fish is not asking for federal or state grants or financial help, the company doesn't need to open its books, Mr. Zakrevsky said.
Not being able to see Intelligent Fish's finances concerns officials somewhat, but a straight cash offer is encouraging nonetheless.
"I'm confident in their numbers," Mr. Zakrevsky said. "The sale isn't contingent on them receiving other financial assistance, so it can move along much more quickly."
"It sounded to me like they had some pretty heavy hitters," county Board of Supervisors Earl VanWormer added. "I have to believe they're in pretty good shape."
At the same time, he continued, the county doesn't want to get in the situation the last time Guilford was sold. The owner didn't pay taxes, resulting in the county taking over the property last year.
Mr. Zakrevsky said Intelligent Fish wouldn't need financial assistance until the second phase of its project in three or four years. This would provide space in the factory for incubator businesses.
As a provider of water, the Village of Cobleskill is likely to play a role at some point in the company's plans.
However, Mr. Zakrevsky said, Intelligent Fish spokesmen have told him the operation can't use municipal water because of the chemicals in it.
Intelligent Fish plans to tap into the aquifer and apparently will use two wells the former Interknitting plant used years ago, Mr. Zakrevsky said.
"We're really excited," Mr. Hopkins said, adding that water quality and space drew them to the Cobleskill site. "We see enormous potential."
The company will use village water for its employees' uses, he added.
The Board of Supervisors must approve the final sale, Mr. Zakrevsky said.
Intelligent Fish plans to employ 60 and also work with SUNY Cobleskill's aquaculture students.