Halloween fun just about everywhere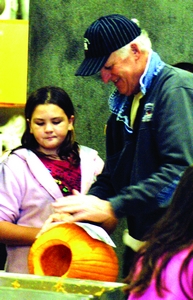 10/27/2010
By Andrew Poole

Ghosts, ghouls and goblins are descending on Schoharie County—but all in the name of candy and good fun.
Locations in Cobleskill, Esperance and Howes Cave will host haunted houses and trick-or-treating events later this week in celebration of Halloween.
SUNY Cobleskill's Communiverisity Halloween Celebration is Thursday from 6-8pm, on campus.
A haunted house, hay rides, a children's craft show and trick-or-treating will be part of the fun.
Local businesses will offer children's activities and arts and crafts.
Participating businesses and agencies are Carpets and Then Some, Coby's Cheer Dome, Best Western, Studio for Art and Craft, Lancaster, Emmons, Surman and Moren Dental Office; Grapevine Farms, WIC, Cobleskill Rec Commission, Children at Risk Response Team and the Pumpkin Patch.
The event is free. People should park in the visitors, or "F" lot, and follow the signs on campus.
Carpets and Then Some and the SUNY Cobleskill Landscaping Club are hosting their second annual corn maze, from Friday to Sunday.
The corn maze is next to Carpets and Then Some, located on the west side of the village, across from the Hess station.
Admission to the corn maze is by donation, with all funds going to the Landscaping Club.
This year, the corn maze will be haunted on Friday and Saturday, from 6-9pm. It's also open Saturday and Sunday––but not haunted––from 10am-5pm.
"We had the corn maze last year, and people told us we should have a haunted corn maze. So this is the first year we've haunted it," said Maggie Jackman Pryor of Carpets and Then Some.
The corn maze is also open on October 30 and 31st, from 10am-5pm, but is not haunted.
There will also be a hay maze and pumpkin patch.
The 28th annual Halloween at Howe Caverns is Friday from 5:30-8:30pm.
Willy Wonka, scary clowns, vampires, wolfmen and more will haunt the cave.
Admission for adults is $10. For children 12 and under, tickets are $5.
All proceeds will benefit Marathon for a Better Life—the Schoharie County Cancer Walk. Last year's Halloween at Howe Caverns raised nearly $10,000 for Marathon for a Better Life.
"We expect to get over that this year," Tour Manager Jeff DeGroff said.
On Saturday, Cobleskill Partnership Inc. will host downtown trick-or-treating, from 2-4pm.
Businesses will be handing out candy to trick-or-treaters on Main Street in Cobleskill.
There will also be activities at Teen Town in Cobleskill from 2-4pm in conjunction with the CPI event.
Starting at 2pm, a costume parade will start at the Cobleskill Library's parking lot and march down Main Street to Teen Town.
Following the parade at Teen Town, there will be costume judging, pumpkin and face painting, and more.
The CPI events on Main Street and in Teen Town are free.
Also on Saturday, from 5-9pm, the Esperance Elks Lodge will be transformed into a haunted house.
"You never know what's going to be in there," George Manor of the Elks said. "It's all live characters."
Admission is free. The lodge is located on Route 20.