Cobleskill man arrested in slashing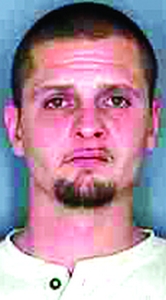 11/23/2010


A Cobleskill man was arrested last week after he cut a woman on the neck and hand and did not let her leave a Bridge Street home forcing her to jump out a bedroom window, according to Cobleskill Police.
Last Tuesday night at about 7:26pm, the woman fled to the nearby Stewart's Shop for help, according to police.
Stewart's employees locked the victim in the bathroom to keep her safe since the man who allegedly attacked her, Ronald L. Fahrenkopf Jr, was observed outside the store attempting to locate her, said police.
Mr. Fahrenkopf, 32, fled the scene on foot before police arrived.
Police said the woman, 26, had been involved in a domestic dispute with Mr. Fahrenkopf at the apartment they shared at 104 Bridge Street. He allegedly threatened to kill her with a knife and then used the knife to cut her on the neck and hand.
The woman, whom police described as Mr. Fahrenkopf's girlfriend, was taken to Cobleskill Regional Hospital and treated for non-life threatening injuries, police said.
Police said the woman suffered multiple superficial wounds on her neck but was able to push away the hand that Mr. Fahrenkopf held the knife. A wound on her hand required stitches.
Mr. Fahrenkopf allegedly physically prevented her from leaving the home and she had to jump out a ground floor bedroom window to safety.
Police searched the area for Mr. Fahrenkopf with the help of a state DEC canine unit, the Sheriff's office, the SUNY Cobleskill Police, and the State Police without success.
Police investigated the crime scene and a warrant was issued for Mr. Fahrenkopf's arrest after consulting with the county District Attorney's office.
On Wednesday, he was located at the home of a relative on Guinea Road in the Town of Fulton by members of the village police department and the Sheriff's office, police said.
Mr. Fahrenkopf was taken into custody without incident and taken to Cobleskill village court for arraignment, police said.
He was charged with second-degree assault, a Class D felony, second-degree menacing, a Class A misdemeanor, and second-degree unlawful imprisonment, a Class A misdemeanor.
He was sent to jail in lieu of $10,000 cash bail or $20,000 bond to return to court on November 22 for further action.