36 years later, looking for leads in Kolodziej murder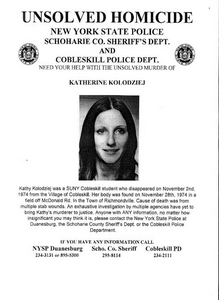 1/4/2011
By Patsy Nicosia

Thirty-six years after SUNY Cobleskill student Katherine Kolodziej was found murdered on Thanksgiving morning 1974, police are still looking for answers.
And her murderer.
Saturday, Schoharie County Sheriff Tony Desmond and Tom Cioffi of the State Police's Bureau of Criminal Investigations, will discuss the case on Talk1300 (WGDJ) radio's "The Iceman," a cold case show airing at 1pm.
Investigator Cioffi, who grew up hearing of the case, took over as lead investigator in the fall.
"Right now, all I can say is that this, like all our old cases, has been worked regularly and reviewed at least monthly...we're pursuing new leads," he said.
For Sheriff Desmond, a state trooper in Warnerville when Ms. Kolodziej's body was found the case is even more personal:
Sheriff Desmond is the last remaining officer from day one of the investigation and the case continues to frustrate him.
"All law enforcement officers have one case that stands out in their career that they want solved," he said.
"The Kolodziej case is mine."
Kathleen Kolodziej was a 17-year-old SUNY Cobleskill student when she went missing on November 2, 1974 after a night of partying downtown.
Twenty-six days later, on Thanksgiving morning, her semi-nude body was found prone on a stone wall off MacDonald and Cross Hill Roads in Richmondville.
She had been stabbed multiple times with two different weapons.
Over the months—and years—that followed, investigators interviewed more than 3,000 people from as far away as Texas and spend thousands of hours pursuing more than 1,000 leads.
And still, the murder remains unsolved.
"She was first reported as a missing person, but it didn't sound right," Sheriff Desmond, a trooper for about 7 ½ years at the time, remembered.
"I had a bad feeling from the start. I think we all did."
Police followed up leads—including one involving a yellow Volkswagen—and interviewed several suspects but the search for Ms. Kolodziej went nowhere—until the afternoon before Thanksgiving.
That's when a man police knew walked into the Warnerville station to report seeing a single shoe on the east side of Cross Hill Road, just past the intersection with MacDonald Road.
Then-Trooper Desmond went with him to the site to retrieve the shoe, which was identified as the kind Ms. Kolodziej was wearing when she disappeared.
"There wasn't much snow, so we decided we'd do a ground search on Thanksgiving," Sheriff Desmond remembered. "It was a cold, overcast day..."
While police were gathered at the scene, another man stopped to ask what they were doing and then pointed out something red on a stone wall off in the distance that he'd spotted while deer hunting.
Troopers pulled out a pair of binoculars. It was Ms. Kolodziej's coat. And her body.
Sheriff Desmond said police then launched a full-fledged investigation; within a couple of months, they knew they were in it for the long haul, he said, they just didn't expect it to be this long.
"Over the years, I'd take a ride up there once in a while, hoping I'd see something new...half-hoping the guy who'd done it would be up there, too," Sheriff Desmond said.
"Before I retired from the State Police I took some of the younger guys up there...I just went up there with [Cobleskill Police Chief] Larry Travis, just so they'd know where it was...
"What do I feel when I'm standing there? I feel a frustration that whoever did this has never been made to answer for it. It needs closure."
Through the years, Sheriff Desmond said, all the police he's worked with have talked—a lot—about the case, hoping to find something they'd missed or to be able to link it to other murders, but nothing has ever panned out.
And, he pointed out, time is running out.
"A lot of the people we've interviewed over the years have passed away," he said. "Their memories are fading...
"I'd guess the guy who did this—if he's still alive--might be in his mid-50s to his 70s. Maybe he feels a need to atone before he dies...there must be someone who knows something..."
Sheriff Desmond said it's a long shot that Saturday's radio show will yield anything new.
"It's a long shot, an absolute long shot," he said. "But I'm still hoping."
Anyone with any information on the case is asked to call State Police BCI at 630-1700.