Llamas get a 3rd chance in Middleburgh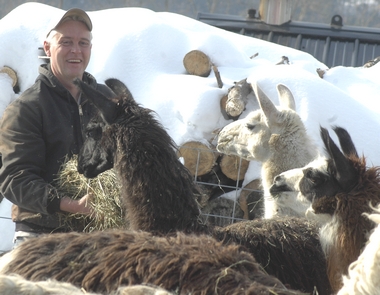 2/2/2011
By Patsy Nicosia

One hundred starving llamas trucked cross-country from Montana are getting another chance in Middleburgh.
Called the New York 100, the llamas were among 800 abandoned after the Montana Large animal Sanctuary after donations dried up; 99 survived the 2,500 trip to Wes and Darcy Laraway's Red Maple Farm.
"They're in rough shape, and we're going slowly with the feed," Mr. Laraway said Saturday as he walked among the llamas. "Too much, too fast would kill them.
"This [rescue] has been coming for a while. I didn't want to get involved; I sat on the sidelines for a while. But finally I had enough."
The Laraways' own history with llamas goes back 20 years.
More recently, they've devoted their efforts to wildlife rehabilitation, drawing on a network of other rehabbers and volunteers.
But after the Montana sanctuary owners locked the gates and walked away. Mr. Laraway said, they began getting reports that dozens of animals left behind were dropping dead every day.
For months, he said, efforts focused on collecting donations to feed the animals—most of them already rescued once—through the winter.
"I argued against that," he said. "I felt we needed to spend the money getting them the hell out of there."
The New York 100 arrived on the Laraways' Middleburgh farm about two weeks ago. Other llama rescuer organizations took groups of 25-50.
Trailering alone cost $9,000 and Mr. Laraway expects it will cost him another $13,000 or more to feed and vet the group until they're ready for adoption in five or six months.
The entire evacuation, he said, cost $90,000, making it the largest rescue since Hurricane Katrina.
"I was expecting feral llamas, but these guys are obviously used to people," he said Saturday. "Llamas are very intelligent and very forgiving and even with what they've been through, they're no exception."
The problems in the llama industry are a simple case of supply and demand, Mr. Laraway said; Most people who want llamas now have them and with no place for the rest, for more than a decade they've been dumped at places like the Montana Large Animal Sanctuary.
Though at first glance, the Middleburgh llamas—all, by design, geldings--look healthy, Mr. Laraway pointed to several whose coats are sloughing off due to poor nutrition.
On a body scale condition of 1-10, with 1 being starving and 10 fat, the Middleburgh llamas are considered 1-2.
"They're not out of the woods yet," Mr. Laraway said. "Not by a long shot. They're skeletons. Stick your hand through all that hair and all you can feel is bone."
The plight of the Middleburgh llamas has drawn the attention of "celebrity" llama Polka Spot, one of the stars of the Fabulous Boys, a reality TV showed filmed in Sharon Springs.
Mr. Laraway said he is working with Brent Ridge and Josh Kilmer-Purcell to set up "virtual" online adoptions that would help generate donations.
More information on that effort is available at beekman1802.com.
More information on the Middleburgh llamas is available at the Laraways' website, redmaplefarm.net.
"We've got a long road ahead of us," Mr. Laraway said, hauling out another bale of hay against the backdrop of Vroman's Nose, "but I wouldn't have gotten involved if I didn't think we could help.