Hunt's on for Blenheim's bridge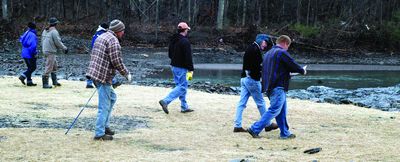 4/3/2012
By Patsy Nicosia

When you've lost your bridge to a 500-year flood, rain and snow are just weather.
That's the philosophy of about 20 volunteers from Blenheim and beyond who ignored the weather Saturday to comb the area of the Schoharie Creek, known locally as Kniskern's Island, for pieces of the Irene-destroyed Blenheim Bridge.
The Blenheim Bridge Recovery Team's longterm goal is rebuilding the 1855 bridge, designated a National Historic Landmark as the world's longest single-span covered bridge.
Right now, though, they're focused on picking up the pieces-sticking out from under deadfalls, buried deep in tons of debris, and sometimes, 10 feet in the air.
"We're pretty pleased with what we've recovered so far," Councilman Ann Strauch said after Saturday's bridge-search.
"Even just walking out across the fields...there are pieces of the bridge everywhere."
Searchers Saturday used maps, GPS, and common sense to locate and flag timbers and other pieces of the bridge, some of them easy to identify by square nails and bolts, others anyone's guess.
Ms. Strauch said they recovered enough pieces that efforts this Saturday will focus on loading them onto wagons and hauling them closer to Route 30; Schoharie County Department of Public Works will help move what it can from there.
Efforts will continue every Saturday at 9am from the Town Hall; anyone interested in volunteering can contact Ms. Strauch at 827-5272 or just show up.
Blenheim Bridge Recovery is also collecting photos, sketches, and bridge-related artwork for a book they hope to use as a fundraiser.
Anyone with anything they'd like to contribute-at no charge-can also contact Ms. Strauch.