One year later: New logo for Schoharie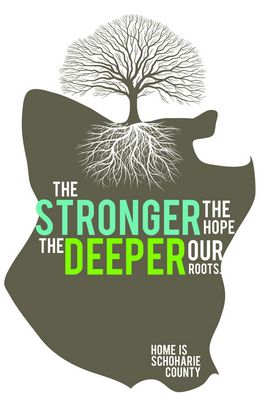 9/5/2012
By Patsy Nicosia

Home may be Where LOVE Is, but a year after Hurricane Irene drove that point home, we know hope and roots count for a lot, too.
With that in mind, Andrea Levandusky and Jessica Kirby, the team that designed and marketed the logo that's raised more than $50,000 for flood recovery, have launched another with the message:
The Stronger The Hope, The Deeper Our Roots. Home is Schoharie County.
T-shirts with the new logo are available at the Apple Barrel in Schoharie, which is owned by Ms. Kirby's mom, Sue.
Mugs, posters, buttons, and totes with the logo are also planned-again-and Ms. Loden said one customer has even requested a Stronger-Deeper apron, an idea she's considering.
"Right from the start, people really embraced the message-both messages," Ms. Loden said. "Together, they say a lot about Schoharie and Schoharie people and I think both logos are appropriate for the times."
Both Ms. Levandusky, who's a graphic designer, and Ms. Kirby, who lives in England, are Schoharie alum who found it difficult to be so far from home when Irene struck.
The logos are their way to help-though they never expected their original effort to be so successful.
"We were overjoyed...because we hoped to raise a few thousands dollars with it [the first logo] and it ended up being something so much more," said Ms. Kirby.
"I'd love to raise another $50,000 with the new graphic."
Ms. Kirby said it was a family friend still living in Schoharie who sparked the idea for a second logo as a way to mark all the progress that's been made-and all the work that remains.
Ms. Levandusky said she didn't think twice when Ms. Kirby suggested a second logo; she, too, is amazed at how much the first one raised for recovery.
"As a graphic designer, it's really a piece of my heart," she said of the artwork.
"This new logo...I really wanted to create something that focused on hope and strength. There's still a lot of grieving, but there's also moving forward."
A year ago, Ms. Levandusky said, she watched amazed as the logo went "viral" on Facebook when people began using it as their profile photo.
Already, it's happening again.
"I hope people see the new graphic and feel a sense of pride at everything that's been accomplished so far," said Ms. Kirby.
'I can't wait to move home and become even more involved in the recovery. Schoharie is definitely rebuilding and it will be better than before."