MCS football possibilities get brush-off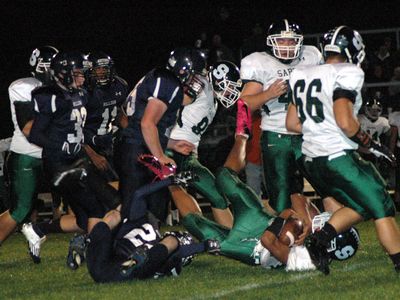 10/17/2012
By David Avitabile

The sounds of high school football won't be returning to Middleburgh anytime soon.
After holding a community meeting, Helderberg Valley Football officials have informed Middleburgh athletic director Jon Derochie that they are no longer interested in a joint football program with MCS.
Pam Fenoff, a founder of the Helderberg Valley Football program, said a community meeting was held with members of the Berne-Knox school district and the consensus was to focus their efforts on a football team for Berne-Knox only and not combining a program with another school.
Helderberg officials would be willing to help if Middleburgh wanted to purse their own team.
Mr. Derochie informed school board members of the news last week.
The pull-out leaves the chance of an MCS football program dead, at least for now.
"In the current economic climate, it's at a standstill," Mr. Derochie said.
The chances of MCS and Berne-Knox starting a JV team similar to what has been done between Duanesburg and Schoharie were slim, but the possibility created a lot of talk in the community and school, officials said.
"I was kind of disappointed," Mr. Derochie said of the pull-out but he said he wondered about some of the cost estimates for the program.
"I was wary at best," he said.
Ms. Fenoff said the cost for a joint program should only be around $20,000 and would include everything from socks to goal posts but Mr. Derochie said the costs could have been a lot higher.
League officials were working with a professional fundraiser to raise at least $30,000 for the first year, she said.
Mr. Derochie said he estimated the start-up costs at least $28,800 and the equipment and coaches for the first year would be another $37,800 making the total over $66,000.
"I don't know how that breaks down to $20,000 a year," he said.
After starting with a JV program, there would have been a JV and varsity program the second year and a JV, varsity and modified program for the third year with a cost of about $80,000.
"The numbers, to me, didn't add up," he said.
He noted that equipment has to be reconditioned after each season and that is expensive.
There were many ramifications from having a football program, he added.
With the number of athletes at MCS, the program could have hurt other sports such as soccer, because of players available, and basketball because of potential injuries, Mr. Derochie said.
"It wasn't meant to be."
As for the future of football at MCS, Mr. Derochie said, "We'll put it on hold and see if it comes up again."
Middleburgh school board members earlier last month agreed in a 3-2 informal vote, to get more information on the program before making a decision on football.