Heroin bigger than you think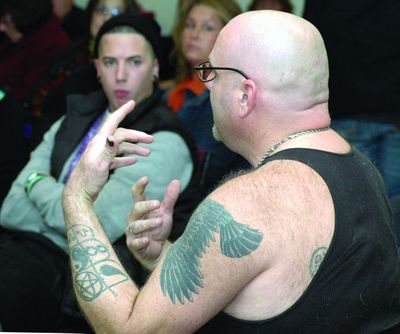 11/26/2013
By Patsy Nicosia

Stories and statistics shared the floor Wednesday when addicts, their families, and the people who work to help them-even if that means putting then behind bars-gathered to talk about our heroin problem.
"It's epidemic," said Greg Tuck, who identified himself as a recovering heroin addict.
"Just because you don't see people in the streets pushing it...When I was using, there were 13-year-olds buying from the same guy I was. If you know what to look for, all the signs are there."
More than 100 people turned out for the forum, put together by the Schoharie County Chemical Dependency Clinic and others, and featuring a panel that included all of the above.
Since 2010, the number of heroin cases locally has quadrupled, said Bonnie Post, head of Community Services for the county.
Few addicts start out with heroin-Mr. Tuck said his problems started in the medicine cabinet; Cobleskill's Mayor-elect Linda Holmes, who's worked with at-risk 13- and 14-year-olds who are already alcoholics and drug addicts, said that's where it started for them, too.
Ms. Holmes said she was traveling to Schenectady for help for those kids and others in the audience said it can be near-impossible to find treatment locally; there are no halfway houses or in-patient or detox programs here, said Nancy Ortner, coordinator of the county's Chemical Dependency Clinic.
The county's Drug Treatment Court, is an exception to that.
Brendan, who identified himself as an addict, said it's probably saved his life.
"If I don't do what I'm supposed to do, Judge [George] Bartlett is going to give me a sanction and I'm going to spend the weekend in jail," he said.
"At first, that's all that kept me sober."
Drug Court, Judge Bartlett explained, started 11 years ago as a way to find a balance between jailing addicts and helping them find the treatment and skills they need to recover.
About 50 addicts have gone through the 18-month program, which includes monitoring and consequences for slip-ups.
"Does it work for everyone? Absolutely not. We've had people decide they'd rather do time," he said. "We're in their face all the time."
District Attorney Jim Sacket and a woman in the crowd went head-to-head over his handling of some drug cases; 10 minutes later, they apologized to each other.
"It's the Italian side of me," Mr. Sacket said to laugher. "But I am passionate about this."
"And the Italian side of me," the woman said.
Cobleskill Police Department Rich Bialkowski said drug arrests are difficult in small towns like Cobleskill, where everyone knows the cops.
"You find us an informant, we'll go in and buy," Mr. Sacket added. "We have plenty of information. We know who's doing what. But we need a buy."
And informants rarely work out, Sergeant Bialkowski said.
Jamie, a recovering addict, said he knows from his 14-year-old son that heroin's in the schools; Anthony Falzarano, said that's where his addiction began.
He also said not all of the treatment options work; for him, they didn't.
"If you want to get high, you're going to get high."
Mr. Tuck said stereotypes of addicts are just that-stereotypes. They're not from broken homes. They're not dumb kids.
"Me, there was something in me that I needed to fix. I lost my kids. I got them back. And I still struggle.
"I walk a lot," he continued. "All the signs are there...pieces of syringes on the sidewalks...paper packets...I see it every day. We need to nail this or it's going to devour us as a community."