Howe developers: There's no site like ours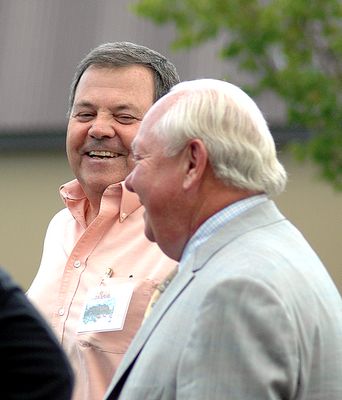 9/16/2014
By Patsy Nicosia

Why Howe Caverns?
Because no other site has so much to offer.
And it's already a world-famous destination.
That's the point developers for the proposed Howe Caverns Resort and Casino made last Monday in Albany and again Tuesday to a crowd of supporters.
HCRC's $450 million plans are divided between the casino and the water park, both with three restaurants, and a 250-room hotel.
The casino will also offer 1,200-1,500 slot machines and 35-60 gaming tables, convention and banquet facilities, and a pool and spa.
The water park will be both indoor and outdoor and will also include an arcade, game and entertainment park, and Dinosaur Theater.
With both pieces, HCRC promises to create 3,000 construction and 1,700 ongoing jobs, and estimates $158 million in resort revenues, $131 million in gross gaming revenues, and $23 million from the water park in the first year.
"Where else is there a destination location like this?" asked Ryan Moses, a member of the HCRC team at last Tuesday's presentation at Howe Caverns.
The water park will bring in families from as far away as Boston and Pennsylvania, Mr. Moses said, calling the market "grossly underserved" and with the nearby Baseball Hall of Fame in Cooperstown, will draw families to other attractions and overnight stays.
The 1,700 promised fulltime jobs, which will also employ people from neighboring counties, will make a 30-50 percent difference in Schoharie County's unemployment rate, Mr. Moses said; in Schenectady County, which is also in the running for a casino license, the promised jobs would only change the unemployment numbers by .6 percent.
Casino-generated tax revenues for the Town of Cobleskill would be more than twice the current budget, would offset county taxes by 20 percent, and for Cobleskill-Richmondville Central School, would equal 40 percent of the tax levy.
"The pieces make the project," Mr. Moses said.
"It's an ambitious project," agreed HCRC's Jeff Hyman, but it best meets the state's own very specific criteria.
"We're not na´ve enough to think there aren't political factors," he said, "but to the extent that the state sticks to that, we have more than a fighting chance."
Developer Michael Malik, who said he's had a hand in most of the 18 casinos in his home state of Michigan, said he's gotten every project he's ever put forward.
"And I don't intend to lose now. This isn't my first rodeo or Full House's first rodeo," he said.
"This isn't going to be Las Vegas here, but it will be something you can be proud of. It will be safe, friendly, and fun."
The resort and casino are expected to generate an additional 1.7 million visits to the region and HCRC will be marketing the region to bus trips as well as to families and individuals.
Mr. Malik said HCRC will buy locally as much as possible and "comp" guests for tickets and visits to other local tourist destinations like the Baseball Hall of Fame and will be marketing the region to bus trips as well as families and individuals.
"The one thing that separates us from the other project is our local support," said Mr. Moses, giving a nod to Caverns' Emil Galasso, the man who started it all.
"Emil Galasso is the one who stuck his neck out and said 'I want to help.' We can't let him down."