Landowners get firsthand look at Kinder-Morgan route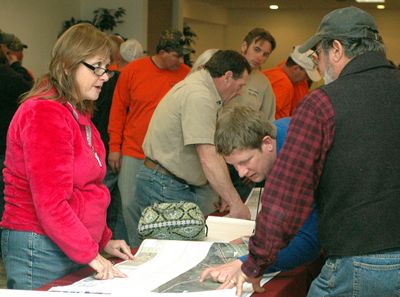 4/8/2015
By Patsy Nicosia

Landowners along the proposed Kinder-Morgan Northeast Energy Direct Project got a firsthand look at the would-be route Monday in Schoharie.
In an open house reminiscent of those held by Constitution Pipeline, blue-shirted Kinder-Morgan reps met one-on-one with dozens of landowners, answering questions about the proposed 296-mile NED in the Banquet Room of the Days Inn & Suites.
Meanwhile, upstairs, more than 100 opponents-of Kinder-Morgan, Constitution Pipeline, and fracking-gathered to voice their concerns.
"For more than two years, we've lived under the threat of Constitution," said Bob Nied of Richmondville and the Center for Sustainable Rural Communities, only to now be targeted by "arrogant" and "insensitive" Kinder-Morgan.
"Poor rural communities are being exploited..." he said. "We stand here to say 'Enough is enough.' "
Kinder-Morgan is seeking FERC approval to build a high-pressure natural gas pipeline along a route that would largely parallel that of Constitution Pipeline, impacting many of the same landowners-some of whom have seen easements for that line seized by eminent domain.
Dan and LJ Brignoli of Davenport told the upstairs crowd that they've spent the past few months in hiding, avoiding process servers.
"But after hiding as best we could, they finally taped a package to our garage door," Ms. Brignoli said. "And two weeks ago [a judge] gave our land to Constitution Pipeline.
Adding insult to injury, the couple said, Constitution followed that up with a letter telling them what they can-and can't-do with their own property.
"Our hearts hurt," Mr. Brignoli said.
Wes Gillingham of Catskill Mountainkeeper, another of the groups at the anti-pipeline protest, said contrary to what the industry claims, the natural gas being piped through the region is being exported.
"FERC is aiding and abetting corporate greed on the backs of New Yorkers," he said, despite the fact that the state has acted to prohibit hydrofracking.
Emotions were cooler downstairs at the Kinder-Morgan event, where reps said opponents have been holding press conferences at the same time and place as their presentations.
Most of those at the open house wanted specifics on things like wells, easements, and the proposed route.
Two of them, husband and wife Frank and Debbie Spezza, are on opposite ends of the whole natural gas pipeline discussion, but Monday, they were meeting in the middle.
The proposed K-M pipeline goes by the Spezzas' Route 30, Schoharie, home; family members own a half-dozen other lots nearby.
Mr. Spezza said he looks at the issue as a businessman.
He said he sees value in grouping the pipelines-likening it to cluster building-and said it's up to landowners to negotiate the best deal for themselves.
Ms. Spezza, though, quizzed K-M's landmen for a half-hour on the project specifics and said she's angry because if the project goes through, she'll have three gas lines-K-M's, Constitution's, and Tennesee's Gas-nearby.
"It's not free money," she said of any compensation. "You have to pay taxes on it," while agreeing with her husband that if the pipelines are inevitable, it's important to get paid-well-for access.
Ms. Spezza said she was also concerned that the K-M rep she spoke with was unaware Hurricane Irene had ever decimated the Valley.
Kinder-Morgan will hold a second open house Thursday, April 14, at Radez Elementary in Richmondville, 6-8pm.