County administrator already looking to economic development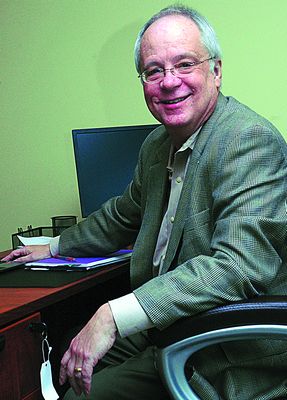 11/10/2015
By Jim Poole

Steve Wilson wants to pull Schoharie County's resources and talent in the same direction.
One of those directions is economic development.
Mr. Wilson is the county's new administrator, and he's been on the job since last Monday, all of seven days.
Although he's spent much of his time meeting people and learning about the county--two duties he'll continue--Mr. Wilson has been contemplating economic development.
He sees economic development, along with budget work and coordinating county supervisors and department heads, as one of his key tasks.
That concern resonates with voters, because economic development--especially, the lack of jobs--was a central issue in the fall campaign.
The first priority is to determine what avenue of development is best and will have the broadest support, Mr. Wilson said in an interview Friday.
"We need to figure out what we need to go after," he said. "Not just what businesses want or the college wants or what supervisors want.
"We want something that everybody buys into."
Building that broad consensus, Mr. Wilson said, will take months. Calling himself "a sponge," he wants to talk to people, absorb what he hears and then articulate it into a plan.
"I may be an outsider," Mr. Wilson said, "but I know enough to listen."
He's sure success in economic development will take more than his work alone. Even though he's been here little more than a week, Mr. Wilson believes Schoharie County has the talent for an effective development strategy.
He pointed to the great strides made in flood recovery in the four years since Irene as evidence of the county translating talent into resiliency.
"To make huge progress, my job is to pull those resources together," Mr. Wilson said. "We can find the talent some way."

• • •
Coordinating county government is also high on Mr. Wilson's list. After the Board of Supervisors selected him for the job, but before he started, he met individually with supervisors.
Then, on his first day here, he met all department heads as a group. During last week, he met one-on-one with department heads "to find out what their individual challenges are."
Mr. Wilson's also been attending Finance Committee meetings as the committee works on the tentative 2016 county budget.
Generally impressed with department heads and supervisors, Mr. Wilson believes supervisors need a better flow of information to make decisions.
Better, in the sense of simpler and more straightforward.
"Faced with an issue, they need a paper with factual information with pros, cons and options," Mr. Wilson said. "Just the facts."
Like his approach in economic development, Mr. Wilson wants to build a wide consensus within county government.
"I'm more of a facilitator. That's my leadership style," he said.
But he admitted that because the position is new, how his duties in county government develop is a clean slate; nobody's done this before--at least here.
"We've got to figure out the way to do the administrator's job in Schoharie County," said Mr. Wilson, adding that he relishes the challenge.
And he's talked with administrators in other counties.
"Every one is different," he said. "Some are heavy on budget; some have a broader platform. They're all over the place.
"But I think it will work. This structure works in lots of places, and I think it will work here."

• • •
Budget and finances are also essential duties. Mr. Wilson praised longtime Treasurer Bill Cherry's accomplishments and said he wants to build on his work.
Mr. Cherry said last month that the tentative 2016 budget isn't a one-year budget but also plans for the future.
Mr. Wilson agreed with the idea.
"We have to start thinking ahead," he said. "What about five-year budgets? And we can set goals for the stuff that county government wants to get done this year."
Mr. Wilson sees his financial work a "comprehensive, continuous review of funding."
He also wants to base financial decisions on quantitative information. For instance, he'd base some budget decisions on how many people use a specific service.

• • •
Mr. Wilson, 60, was a journalist for nine years before starting a 30-year career with the federal government. In Washington, he worked on budgets and contracts, grants, internal control, strategic planning and performance measurement. He also worked with Congress and in inter-governmental relations.
Also in Washington, Mr. Wilson was a small communities coordinator with the Environmental Protection Agency. In that role, he represented the needs of rural communities in their dealings with the EPA.
"That's a big reason why I was interested in this job," he said.
Mr. Wilson was eligible to retire from the federal government in February. With grandchildren in Rochester and on Long Island, he and his wife, Anne Morton, knew they wanted to be in Upstate New York, particularly in a rural area.
Ms. Morton is a procurement and supply chain manager. The couple is in the process of buying a house in Schoharie County.