MCS welcomes new superintendent
| | |
| --- | --- |
| 1/31/2018 | By Dick Danielsen |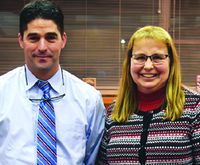 Middleburgh Central School has a new superintendent.
Wednesday, the school board unanimously approved the appointment of Brian Dunn as superintendent of schools, with a contract that runs from March 1, 2018-June 30, 2012.
Mr. Dunn replaces Michelle Weaver, who resigned abruptly in August after 10 years at MCS.
Ray Colucciello has been serving as interim superintendent.
"Brian's going to do a great job," Dr. Colucciello said. "He's an enthusiastic, outstanding educator. We want to congratulate you and welcome you to Middleburgh."
Mr. Dunn has been a Troy Middle School principal for eight years.
Prior to that, he was a Troy High School assistant principal for five years. He graduated from the College of Saint Rose and has a Master's degree from the University at Albany. He taught English for six years at Albany High School.
While serving as Troy's Middle School principal, he oversaw a building of 850 students and helped the school be restored as "A School in Good Standing" by the New York State Department of Education.
He was also named the Capital Area School Development Association's Principal of the Year in 2015.
The search for superintendent began with 17 candidates.
That list was narrowed down to seven and then to four finalists.
Dr. Colucciello said it was the smoothest search he's seen and told board members they've chosen a solid leader.
For his part, Mr. Dunn is thrilled to get started.
He promised transparency and to keep the focus on students.
"I'm so fired up to start I can hardly contain myself," he said. "I promise you that I'll work very hard, be collaborative, trusting, transparent, and most important, to keep the focus on kids and move the Middleburgh system forward together."
Mr. Dunn will begin his duties on March 1.