COVID positives, quarantines throughout Schoharie County
| | |
| --- | --- |
| 4/22/2020 | By Patsy Nicosia |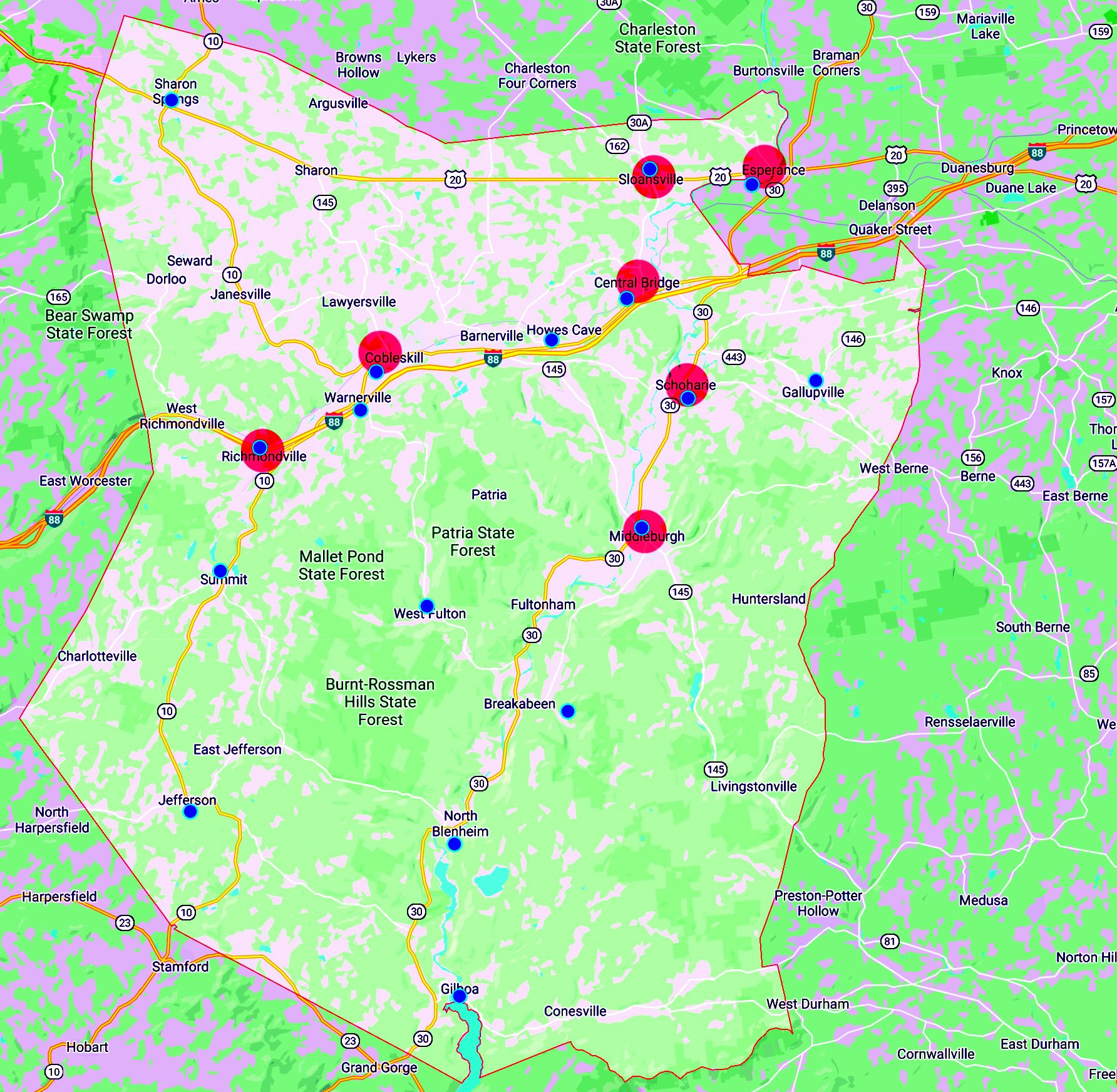 It you think you're safe from COVID-19 because you know where the positives are, you've not
That's the message that came through Friday when Schoharie County Public Health Director Amy Gildemeister ran through a list of towns where people have tested positive for the virus or had been placed under quarantine and isolation.
The short answer is everywhere.
Dr. Gildemeister has come under fire on Facebook for not revealing exact locations; attorney Brenner Fissell is representing four local residents—Bernadette Baumann of Summit, and Jessica Manchester, Terri Moore, and Megan Ostrander, all of Richmondville—demanding that the Health Department release the town-by-town infection data.
Friday, the number of positive COVID cases here had reached 26, Dr. Gildemeister told supervisors at their third teleconferenced meeting—high enough that she's no longer afraid sharing some specifics will threaten their privacy.
[Wednesday's numbers now show 27 positive cases of the virus.]
"You should assume the potential for encountering someone who has the disease…any place in the county," she said.
Positive COVID-19 cases have been recorded in:
• Central Bridge.
• Cobleskill.
• Esperance.
• Middleburgh.
• Richmondville.
• Schoharie.
• Sloansville.
And people have been under quarantine or isolation in 19 communities:
Broome, Central Bridge, Cobleskill, Esperance, Fultonham, Gallupville, Gilboa, Howes Cave, Jefferson, Middleburgh, North Blenheim, Richmondville, Schoharie, Sharon Springs, Sloansville, Summit, Warnerville, West Fulton, and Wright.
Friday's numbers include one death, nine people in isolation, 16 recovered, four hospitalizations, and 100 who've finished quarantine.
"So right now, our death rate is probably right about where we expected it, Dr. Gildemeister said.
"If it had been higher, we'd be seeing a catastrophic affect on our hospitals," much like New York City is experiencing. "The situation [there] is still quite serious. It is getting better, but it's yet to begin to resolve."
Dr. Gildemeister and supervisors credited social-distancing for the county's relatively low numbers—even as some called for a reopening on the economy. (See related story.)
But at the same time. Dr. Gildemeister said she fears a "spike" if reports of Easter get-togethers prove to be true.
"I'm pleased to be holding steady," she said in response to a question from Seward Supervisor Earlin Rosa.
"But we can't maintain this level of isolation forever. I hope we can achieve a steady state…I'd be ecstatic if the numbers went down."
Most of those who've tested positive so far have been social-distancing, Dr. Gildemeister said, and they run the full spectrum, including people who've been very sick, people who've been asymptomatic—but who've still spread the virus—and a handful of cases where the Health Department can't figure out the source.
Dr. Gildemester echoed the words of Governor Cuomo and health experts around the world in calling for increased testing. Both to ID people with the virus and to determine whether those who've recovered from it now have immunity.
"We think that will be the case. We hope that will be the case," she said of the latter.