State unveils new SUNY COVID regs in Cobleskill
| | |
| --- | --- |
| 9/30/2020 | By Patsy Nicosia |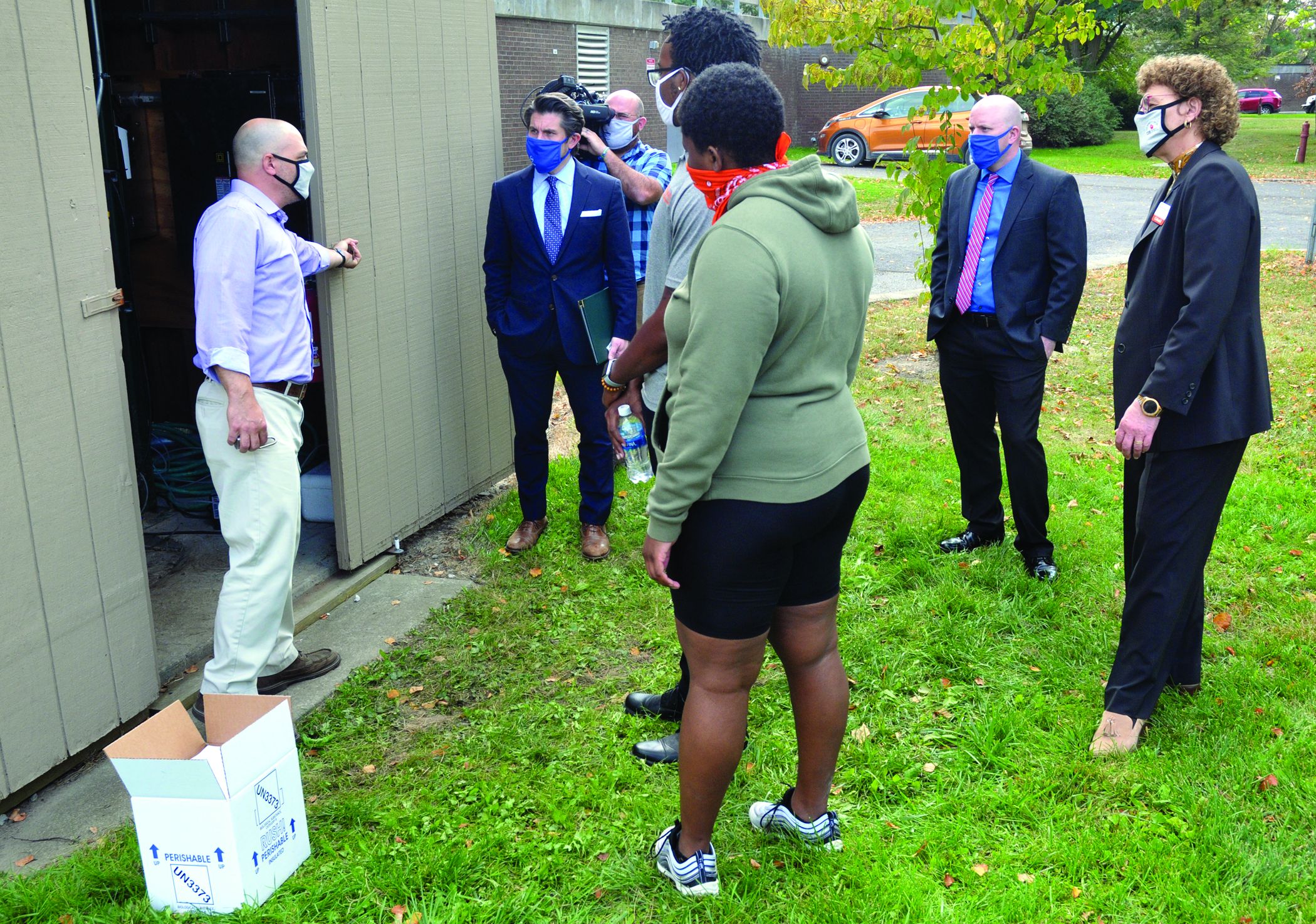 SUNY Chancellor Jim Malatras used a visit to SUNY Cobleskill Friday to praise the college for its COVID efforts—and issue a SUNY-wide set of COVID regulations with serious consequences—including suspension--for students who ignore them.
Since the start of the semester, Chancellor Malatras said, SUNYs have aggressively tested more than 100,000 students and staff.
Overall, the rate of positive cases stands at less than one percent; in the past week, just .4 percent of COVID tests have come back positive.
Chancellor Malatras' first visit to SUNY Cobleskill came September 1, when he announced SUNY Oneonta was moving to all-online classes for the rest of the semester after more than 600 students tested positive for COVID and Cobleskill, President Marion Terenzio said a dozen students had been suspended for partying.
Chancellor Malatras also applauded the college's "pooled testing," for COVID and its plans to begin testing its wastewater during that visit—both of which have since proven their value, President Terenzio said Friday.
After baseline wastewater testing of dorms raised a red flag, she said, the campus went to all-online classes for two days while it ran about 700 COVID tests and found one possible positive in a pool of 11 samples.
"We followed the plan," she said.
The test will need to be re-run to confirm it's positive, but if so, it would be the first positive COVID case since classes began.
Two other students tested positive in tests run before they arrived on campus, but they didn't get the results till after they'd arrived.
The college has also conducted tabletop drills.
The state-mandated COVID Dashboard for SUNY Cobleskill for the period ending Friday shows no positive cases on campus, three students newly quarantined, and four students in quarantine on- or off-campus.
After touring the small wastewater station, Chancellor Malatras held up SUNY Cobleskill as an example "of how things are supposed to work" and a model for other SUNYs.
"It's important to talk about the good stories," he said.
For the others, there are the regulations he unveiled outside Bouck Hall that will go into effect October 1.
Students who repeatedly and intentionally violate the SUNY-wide regs can face dismissal.
The regulations, "Uniform Sanctioning in Response to COVID-19 Student Violations," will penalize students who:
--Test positive, but intentionally continue to gather with others.
--Fail to self-isolate or quarantine when directed to do so.
--Violate the state's social-distancing or masks policies or host or attend on- or off-campus gatherings that violate them or exceed the number of attendees.
--Fail to comply with campus COVID testing or contact tracing requirements.
Penalties for violating the regulations range from forced remote learning to dismissal or suspension, to fines and criminal prosecution.