NY Rising finalizes local projects for $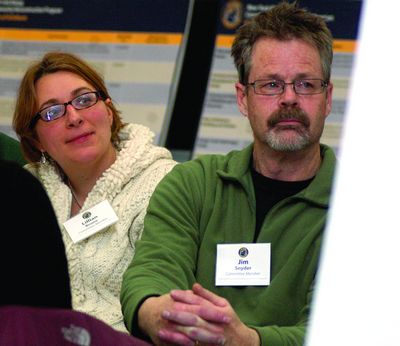 3/4/2014
By Patsy Nicosia

The Irene-ravaged Schoharie Valley's plan for how to best use up to $18 million in state and federal recovery money is expected in Albany by month's end.
From there, it'll head to Washington for HUD approval; funding for the projects chosen could start flowing as soon as this summer.
The New York Rising Community Reconstruction Program comes out of efforts to help communities rebuild from the devastation of Hurricane Irene, Tropical Storm Lee, and Superstorm Sandy and in Schoharie County, includes the Town of Esperance and the Villages of Esperance, Middleburgh, and Schoharie, along with late additions of the Towns of Schoharie and Middleburgh.
Each of the communities is eligible for up to $3 million in grants.
Volunteers have been working to develop and prioritize projects since September and Thursday, they hosted the last of three community input meetings in Middleburgh.
"There are a lot of moving parts here," State Planner Jaime Ethier told a crowd of about 50 people.
And now, they're moving quickly, said Schoharie Area Longterm Executive Director Sarah Goodrich.
By yesterday, Tuesday, Ms. Goodrich said, the state planned to have the "tweaked" plan back in the local committee's hands for a final project-by-project roll call vote.
From there, it heads to Washington, where Mr. Ethier said HUD will look at the individual projects, along with alternative funding sources, before making the final picks.
For simple projects, he said, funding could follow quickly, but checks for those requiring things like engineering studies or design will take longer.
"The Governor wants to see as many projects passed as he can," Mr. Ethier said, with a priority given projects with a clear beginning and end instead of those that "go on forever."
Since the first community input meeting in October, the local NY Rising Committee has been refining and winnowing down possible projects.
Among those still on the table Thursday: Expanded cell service, a Schoharie Creek study, a multi-use trail from Central Bridge to Schoharie, re-purposing a mobile home park on Junction Road for RVs, improvements to firehouses and rescue squad buildings, alternate emergency routes, and water and sewer lines in the Village of Esperance.
More information on the projects being considered is available online at Stormrecovery.ny.gov/community-reconstruction-program.
Look under regions and then Capital Region/North Country/Mohawk Valley.
Mr. Ethier said most of the local communities have identified $25-$50 million worth of projects and those not making the cut at the HUD level can be considered for future funding from other sources.
Ms. Goodrich said that's important on many levels, including the personal.
"There's a delicate balance between being prepared for the next storm and being able to live here in peace without worrying every time it rains," she said.
"We want to give people a sense of security and confidence. We want them comfortable-but prepared. Being able to put together a plan like this is empowering."