College cuts ribbon on future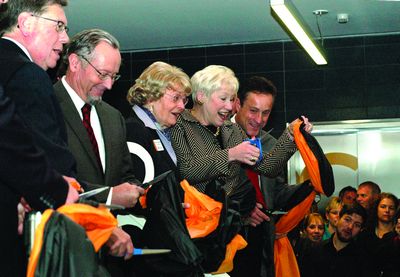 10/29/2014
By Patsy Nicosia

SUNY Cobleskill marked the long-awaited opening of its Center for Agriculture and Natural Resources Friday with tours, speeches, and a ribbon-cutting.
Futuristic both inside and out, the building brings facilities for animal and plant science and fisheries and wildlife together under one roof.
It features 8,000 square feet of greenhouses, a conservatory, USDA meat processing lab, cold and warm water fish hatcheries, and labs for animal science, mamma logy, herpetology, ornithology, botany, soil science, and plant pathology.
Hundreds of well-wishers crowded the 93,000 square foot facility for Friday's event; speakers included State Agriculture Commissioner Richard Ball, SUNY Chancellor Nancy Zimpher, and Assemblyman Pete Lopez, Class of 1981.
Patrick Hooker, deputy state secretary for Food and Agriculture, brought Governor Cuomo's well wishes with him, pointing to the fact that the facility's opening couldn't have been better timed.
"Everything agriculture is growing in New York State," Mr. Hooker said. "Craft beverages, food processing, farm markets-and the Governor knows this.
"If we're going to succeed in the longterm, we're going to need places like SUNY Cobleskill."
It's also, Mr. Hooker said, why Governor Cuomo has awarded SUNY Cobleskill $1 million for a dairy processing facility to be located next to the new center.
Ag Commissioner Ball echoed those thoughts as he spoke to the importance of getting young people involved in agriculture.
"It's not a cliché to say we need to invest in farming and young people," he said. "It's an exciting time to be in agriculture."
Congressman Chris Gibson predicted a bright future for the college; State Senator Jim Seward said the center closes a loop that began in 2009 when SUNY kicked off a five-year Capital Plan.
"I pledge to work hard for another SUNY Capital Plan," Senator Seward promised, adding, "The experience our graduates have here is limitless. This is a very good investment of $45 million in state financing."
Assemblyman Lopez recalled when he was a student at SUNY Cobleskill and said he takes "very seriously" the opportunities the new center will provide "to feed a very hungry state."
Chancellor Zimpher was the last to offer her congratulations, singling out Acting SUNY Cobleskill President Debra Thatcher for carrying the project forward.
Chancellor Zimpher said she can only get to a fraction of the SUNY events she's invited to but chose Cobleskill's "because I have a fondness for what this campus stands for.
"We are designing programs that meet the workplace demands," she added. Cobleskill's going to play a great role in SUNY's future."